17 Apr

Detailing: Reviewing Industry Products
Introduction
In this blog, we take the time to review the best car detailing products we have used over the years. We have varied our reviews so you can get the best products for each stage of the detailing process.
ANGELWAX BLUE RINSE
After a vehicle has been washed and rinsed, we apply Angelwax Blue Rinse by a pump sprayer to the whole of the vehicle before giving a thorough final rinse. A hydrophobic layer left by the Blue Rinse enables water to roll off the vehicle's surface meaning there is less water left on the vehicle, saving time and effort at the drying stage. For a product that is simply sprayed on and rinsed off, Blue Rinse is a great product for making the drying process quicker and easier.
Buy at https://www.in2detailing.co.uk/ves-brand/angelwax.html
ANGELWAX FAST FOAM
At DSJ Automotive & Detailing, we regard the pre-wash stage of a detail as the most important. Removing as much dirt as possible before any contact is made with the vehicle helps to ensure a swirl-free wash. After an initial rinse to remove any loose dirt, Angelwax Fast Foam is applied via a snow foam lance and left to dwell. The foam clings to the vehicle and quickly starts to break down dirt, traffic film and other harmful deposits. After rinsing less contaminates remain on the vehicle's surface, meaning there is less potential scratch inducing particles left to be removed with the contact wash. A great feature of Fast Foam is that although it is tough on dirt it remains pH neutral and will not detrimentally affect wax or ceramic coatings. Overall, an important product in our safe wash procedure and recommended for any professional or car care enthusiast.
Buy at https://www.in2detailing.co.uk/ves-brand/angelwax.html
ANGELWAX SUPERIOR SHAMPOO
At DSJ Automotive & Detailing, we use Superior Shampoo by Angelwax on every vehicle we wash, whether it be preparation for paint correction, ceramic coating, PPF installation or regular maintenance washes. Unlike some shampoos on the market, Angelwax Superior Shampoo is a pure shampoo, containing no added gloss enhancers or wax, which can hide the true effects of coatings. It has very good cleaning power yet remains PH neutral making it safe to use on protected paintwork whether that be wax or ceramic coating. We like how gentle it is on our skin as well as the vehicles paintwork. Having a high dilution rate, you don't have to add much product, we normally add 150ml to a 20-litre wash bucket.  Overall, we find Angelwax Superior Shampoo a great safe and cost-effective option when choosing a shampoo.
Buy at https://www.in2detailing.co.uk/ves-brand/angelwax.html
AUTO FINESSE HOG HAIR DETAILING BRUSHES
Auto Finesse's Hog Hair Detailing Brushes are the perfect tool for cleaning all of the hard to reach areas around a vehicle, such as grilles and around badges. At DSJ Automotive & Detailing we recommend using them at the pre-wash stage, as the snow foam dwells. The super-soft natural bristles are safe on paintwork and won't inflict swirls or scratches. Another great use for these brushes is on wheel faces. The long bristles can reach between wheel spokes and around wheel nut recesses, the parts where it can be a struggle to reach with a mitt. Overall if a brush is to be used on a vehicle then it has to be made from the softest bristles to avoid scratching and that's why we recommend the Auto Finesse Hog Hair Detailing Brushes.
Buy at https://www.autofinesse.com/en/detailing-brushes
BILT HAMBER SURFEX HD
Surfex HD by Built Hamber is a powerful water based all-purpose cleaner and degreaser. It attacks all oil and grease-based soiling, but unlike solvent based cleaners will additionally clean organic and water deposited grime. The beauty of Surfex HD is that it's dilutable making it possible to adjust its strength according to the job at hand. Surfex HD can be used to clean almost any part of the vehicle including wheels, arch liners and engine bays. We highly recommend it for cleaning tyre walls. Overall Surfex HD is a highly versatile and effective cleaner which has become a staple product at DSJ Automotive & Detailing.
Buy at https://www.bilthamber.com/surfex-hd
CARPRO IRON X
Iron X by CarPro is a highly effective iron contamination remover and can be used on all exterior surfaces. Iron contamination which can often be seen as small brown or orange spots cannot be removed by washing and are often embedded into a vehicle's paintwork. Iron X reacts with the iron, turning purple in the process. The contamination is dissolved and can then be removed. The effectiveness of Iron X makes it a key product in our decontamination process.
Buy at https://carpro.uk.com/products/iron-x-500ml
DETAIL GUARDZ DIRTLOCK GRIT GUARD
Grit guards are an essential part of a safe wash process. They help to prevent dirt from getting caught up in your wash mitt and causing scratches to paintwork. The Dirtlock by Detail Guardz features flexible tabs which allows a snug fit with your wash buckets, eliminating any chance of dirt coming back up into the wash or rinse water from around the side of the grit guard. The design of the fins and the turbine design allows dirt to easily fall to the bottom of the bucket out of harm's way and keeps it there. Overall a very well-made product and in our opinion the best grit guard on the market.
Buy at https://www.slimsdetailing.co.uk/grit-guard-bucket-detail-guardz-dirtlock.html
GTECHNIQ W7 TAR AND GLUE REMOVER

Tar spots are unsightly and ruin the appearance of a vehicle. Unfortunately, they are unavoidable and cannot be simply washed off. Gtechniq W7 Tar and Glue Remover safely and effectively breaks down tar deposits, which can then be wiped away with a micro fibre towel. W7 Tar and Glue Remover can also be used to remove glue residue left behind after removing badges. It forms part of our decontamination process and is used on almost every vehicle we detail, whether it be a maintenance detail or preparation for polishing and coatings.
Buy at https://www.slimsdetailing.co.uk/gtechniq-w7-tar-and-glue-remove.html
Whatever you choose to wash your vehicle with is very important. The w
GTECHNIQ WM2 MICROFIBRE WASH MITT
rong choice will lead to unsightly swirl marks and scratches. Microfibre wash mitts are widely regarded in the industry as the best choice in wash media, as they are soft and gentle on paintwork and easy to maintain. At DSJ Automotive & Detailing, we use the Gtechniq WM2 wash mitt for all of our details. It features a foam insert inside the mitt which holds plenty of soap, giving lots of lubrication as you glide the mitt over the vehicle. The microfibre strands hold potential scratch inducing dirt particles away from the paint ready to be released in the rinse bucket. Overall the Gtechniq WM2 wash mitt is a vital tool for our safe washing process and its ease of maintenance makes it a good choice for professional detailers and car care enthusiasts.
Buy at https://www.slimsdetailing.co.uk/gtechniq-wm2-microfibre-wash-mitt.html
LIQUID ELEMENTS SILVERBACK DRYING TOWEL

What you choose to dry a vehicle with is just as important as what you choose to wash it with. Using an inferior product can lead to unsightly swirl marks and scratches, ruining the finish of a vehicle. In our opinion the Liquid Elements Silverback drying towel is the safest product to use for drying your vehicle. Its combination of super-soft, plush microfibre and high absorption properties make it both extremely gentle on paintwork and efficient at soaking up water. A highly recommended product.
Buy at https://www.in2detailing.co.uk/liquid-elements-silverback-xl-drying-towel-krystal-kleen-detail.html
METRO VAC MASTER BLASTER DRYER
Removing all of the residual water from a vehicle after it has been washed is almost impossible with a drying towel alone. Water sits in all the nooks and crannies such as window seals, inside the wing mirrors, between panel gaps, grilles and all the other small crevices that can be found on a vehicle. The Metro Vac Master Blaster is a great tool for removing this water. It is a mains powered dryer which blows warm, filtered air forcing out the trapped water which can then be soaked up using a drying towel. The Master Blaster is particularly useful when drying wheels, which can be very intricate and difficult to dry properly. A feature we really like is the nozzle being made from soft rubber meaning any accidental knock against the vehicle will not cause any damage to the paintwork.  Overall a very useful tool for any professional or enthusiast.
Buy at https://www.slimsdetailing.co.uk/metro-vac-master-blaster-dryer-with-30ft-hose.html
STONER INVISIBLE GLASS
Having crystal clear glass is the finishing touch to any detailed vehicle. Unfortunately, this isn't always easy to achieve. Even the smallest smear can be frustrating and time consuming to remove. We find Invisible glass by Stoner to be the perfect balance between being tough on dirt and grease and leaving a smear free finish. At DSJ Automotive & Detailing we recommend using one glass towel for cleaning the glass and keeping another dry glass towel for a final buff to ensure a perfect smear free finish.
Buy at https://www.invisibleglass.co.uk/
VIKAN MULTI BRUSH
Wheel arches pick up all the dirt and debris from the road and are a particular difficult area to clean on a vehicle. A good pressure washer alone is not usually enough to clean these areas to satisfaction and will need some agitation with a brush. This is especially the case with carpet arch liners. At DSJ Automotive & Detailing we highly recommend the Vikan Multi brush for this process. It features dense, soft polyester bristles, which are ideal for removing stubborn dirt and debris. The brush is comfortable to hold and features a rubberised brush head and has no metallic parts making it safe to use around a vehicle. The Vikan Multi brush can also be used around engine bays and on tyre walls. Overall a versatile and well-built tool.
Buy at https://www.vikan.com/uk/products/brushes/525252/multi-brushrim-cleaner-290-mm-softsplit-black
WHEEL WOOLIES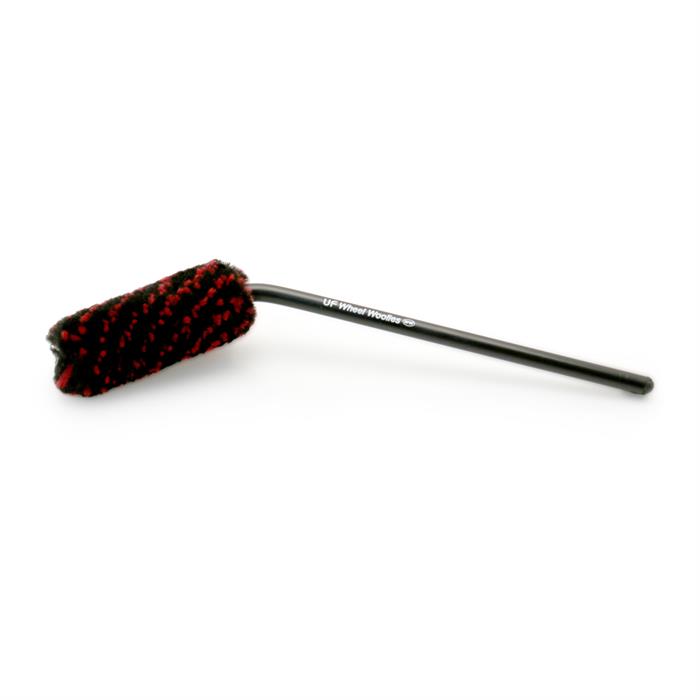 Cleaning the inner barrels of alloy wheels can be the dirtiest and trickiest part of washing a vehicle. At DSJ Automotive & Detailing we choose to use Wheel Woolies to complete this task. The soft, dense microfibre holds a lot of wheel cleaning product and together with the long reach handle, means you can clean the whole of the inner barrel quickly and efficiently. The softness of the microfibre makes them a safe choice to use on all wheel surfaces, including delicate finishes such as gloss black. One added bonus to this design over some traditional brush types, is a reduction in product splatter, making it a cleaner and more enjoyable job.
Buy at https://www.slimsdetailing.co.uk/wheel-woolies.html
WHITE DIAMOND METAL POLISH
White Diamond metal polish is great for cleaning and brightening chrome and unpainted metal components on a vehicle. It removes oxidation and discolouration quickly and effectively. At DSJ Automotive & Detailing we use it on exhaust tips, often leaving them looking like new. White Diamond also leaves a protective layer behind, helping to maintain and protect the shine.
Buy at https://www.whitediamondeu.com/
WO-WO MICROFIBRE WHEEL WASH MITT
Cleaning alloy wheels to perfection can be a frustrating and time-consuming process. This is especially the case with modern vehicles, which can have intricate wheel design. The Wo-Wo microfibre wheel wash mitt has been designed to fit comfortably over your hand and makes getting into the hard to reach areas of wheels easier. This mitt also makes it possible to clean behind wheel spokes with the wheels not being removed from a vehicle. The Wo-Wo microfibre wheel wash mitt is a well-made, high-quality product. Being made from soft microfibre, it is safe to use on delicate finishes such as gloss black. This mitt is an essential part of our wheel cleaning tool kit.
Buy at https://wo-wo.co.uk/products/microfibre-wheel-wash-mitt
Additional Links
Interested in our previous blog –Detailing Industry Insights, click here. 
Do you want to meet our team and understand what services we offer in further detail if so visit our blog here.
If you would like to know more about how to protect your car's paint, check out our previous blog here.
Alternatively, book your car in for the signature DSJ detail here.
More information on how to protect your car with ceramic coating can be found here.